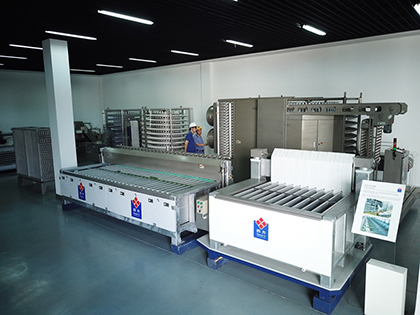 Square Technology has served a wide range of food freezing and processing business for more than 30 years, with more than 3,000 valued customers worldwide. The wealth of application in experience makes Square Technology a professional cold-chain solution provider. Square Technology provides clients with a series of customizable solutions including project consultation, plant design, processing equipment manufacturing, installation, debugging, technical support, after-sales service and so on. Available products and services are: freezing equipment, food processing line, refrigeration system, cold storage projects and so on. Square Technology has set sales and service centers in several cities all over the world. Our professional engineering and service team and systematic cold chain solution capability guarantee the company provides high-quality and trustworthy devices and services to clients worldwide. We can customize Spiral Freezer, Plate Freezer, Tunnel Freezer for customers.
Research and development innovation
The company has a research center for quick-frozen equipment engineering technology, and four laboratories and test platforms for physicochemical, mechanics, refrigeration and nondestructive testing, which focus on the design and development of quick-frozen equipment. All of these provide significant support for various research and development projects. By collecting and organizing the application data of customers, the technical team of Square Technology has continuously developed new products which are suitable for customers and market needs according to the frozen technological process of different foods.
We have established cooperation with many industries at home and internationally in production, learning and development, and maintain a good technical relationship with famous universities and companies such as Shanghai Jiaotong University, Shanghai Ocean University and Nanjing University of Science and Technology at home, BBY Technology Consulting Company in England, Praxair Company in America, and Intralox Company in America, Maekawa Manufacturing Co., Ltd in Japan.
Square Technology bought two Swiss Bystronic laser cutters and Japanese AMANDA bending machines to finish the cutting and sheet metal processing of stainless steel and aluminum alloy sheets. Square Technology also uses some advanced devices such as CNC machining centers control system, numerical control lathes for the processing of delicate parts of cold-chain devices.
1. The detection of purchased component into the factory
When it comes to material selection, we only use high-quality brand components which meet ISO and GB standards, including Schneider, Bitzer, SEW and so on. When purchased components enter the factory, there will be a strict quality examination. These parts are examined by testing instruments to ensure their quality.
2. Production testing
Square Technology strictly controls the product quality during the production process, and every detection aspect is carried out by professional inspectors. We refer to the national standards and the enterprise standards drafted by the company for our products, using the comprehensive test equipment to control and examine each link of the products strictly.
Refrigeration laboratory:
We have a professional refrigeration unit property test station, to realize automatically gather, transportation, data processing, print quality results and trial reports.
Welding laboratory:
Outfitted with Panasonic YC-300BP, YD-400AT3HV, and YC-400TX welding machines, which can do any welding test to ensure the overall welding level and welding quality in Square Technology.
Electrical performance test:
Square Technology has multi-function testers, withstand voltage testers, and continuity of circuits tester, which can test the electrical performance of the products.
3. Equipment installation inspection
The installation of each device is overseen by specialized supervisors, who conduct the acceptance according to the national standard of the products and the conduct acceptance inspection in strict accordance with the national product standards and indicators of the company-installed specification mandates, to bring high-quality service to customers.
Qualification certification