The first stage: 1986-1999
In 1986, Nantong Refrigeration Equipment Factory was established, developing the first domestically produced plate freezer in China.
In 1990, plate freezers with compressor unit were successfully introduced.
In 1994, the twin drum spiral freezer was successfully developed.
In 1995, the WA-1 type plate freezer was exported to Thailand. In the same year in October, the WF-1J type plate freezer with compressor units was exported to Iceland, from then on, the new-type plate freezer was introduced to the international market.
In 1998, the fluidized bed freezer and the production lines of fruits and vegetables were successfully developed.
The second stage: 2000-2009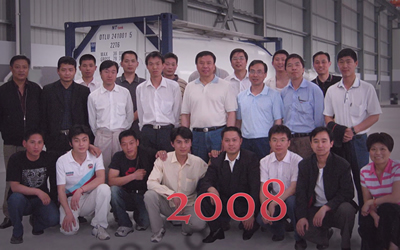 In 2000, the LN2/LC02 cryogenic freezer was introduced.
In 2001, the vertical plate freezer was successfully introduced.
In 2003, Square Machinery Co., Ltd. established joint ventures with Japanese firms, which focused on the development of a variety of series of food processing equipment.
In 2004, high-temperature infeed wide mesh-belt spiral freezer earned the national acceptance certificate.
In 2008, Square Machinery Co., Ltd. successfully trial-produced the tank container.
In 2009, the tank container produced by Square Machinery Co., Ltd. has finished design and manufacture of the 16.7 k impact test tank, which passed impact testing in Germany, making the series of tanks produced by Square Machinery Co., Ltd. down to the 15 K.
The third stage: 2010-2018
In 2011, the spiral freezer made in Square Freezing by PIERRE'S ICE CREAM made many records such as the highest cage (8 meters), the heaviest load (27 tons), the highest production (7.5 tons/h) and so on.
In 2012, the self-stacking spiral freezer was successfully developed.
In 2013, the new product impingement tunnel freezer was introduced.
In 2016, Square Freezing became a listed company on the Shanghai Stock Exchange.
In 2017, the cold storage project and continuous fermentation equipment were released on the Chinese market.
In 2018, the company was renamed Square Technology, holds 5 subsidiary companies, and has successfully developed a direct-drive spiral (DDS) system in cooperation with Intralox, the world's leading supplier of conveyor systems.