Fruit & Vegetable Processing Line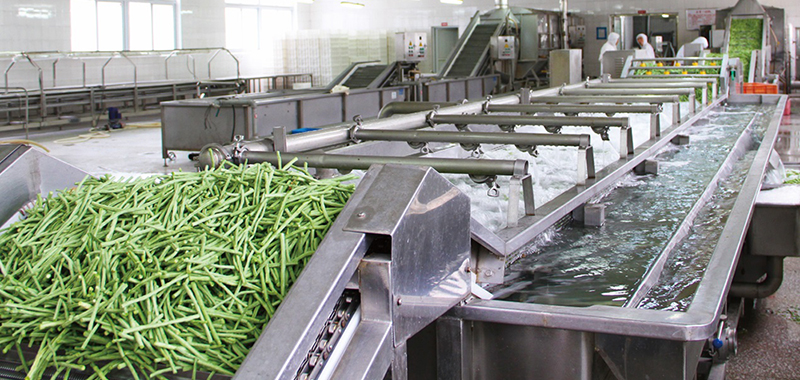 We supply complete processing lines for the freezing of granular, sliced or diced fruit and vegetable products. We offer pre-processing lines according to a wide range of processing requirements and utilize our fluidized tunnel freezer to complete the freezing process.
Using the 1000 kg/h Soy bean production line as an example
Item
Qty.
Conveyor
1
Brush cleaner
1
Foam cleaning lifting conveyor
1
Blancher
1
Normal water chiller
1
Ice water chiller
1
Vibrating drainer
1
Lifting drier
1
Vibrating feeder
1
Fluidized tunnel freezer
1
Pre-processing line
Model
Capacity
Vapor consumption
Ref. consumption
QCL-1000
800kg/h~1000kg/h
0.5T/h
80000Kcal/h
Flow and equipment of fruit and vegetable pre-processing line
Lifting conveyor → Brush cleaner → Foam cleaning lifting conveyor → Blancher → Normal water chiller → Ice water chiller → Vibrating drainer → Lifting drier → Vibrating feeder → Fluidized freezer
1. Lifting Conveyor
To lay the products evenly while moving on the conveyor.
Mainly composed of a stainless steel belt, reducer with motor with installed power of 0.37KW.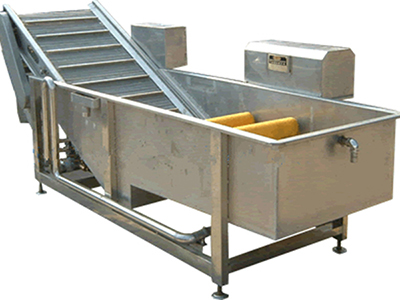 2. Brush cleaner
Mainly to remove hair, fiber, weeds, vegetable roots etc.
Main structure: brush roller, motor and driver, etc. installed power of 0.55KW.
3. Foam cleaning lifting conveyor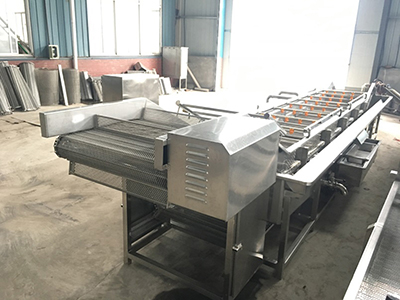 The foam cleaning lifting conveyor is for primary cleaning of products. Vegetables are delivered into the water tank by stainless steel mesh belt. When conveying the products, the foam from the tube beneath the mesh belt will roll the products. While the ultrasonic wave from the foam breakup will strongly clean the products and remove the dirt and impurities. The water in this tank should be changed frequently.
Machine size: 7000mm×1400mm×1600mm.
Air pump power 3KW. General air pipe using Φ63mm stainless steel pipe and branch pipe using Φ25mm stainless steel pipe.
Piping pump power 3KW, circulating pipe using Φ63mm stainless steel pipe and branch pipe using Φ32mm stainless steel pipe, equipped with adjustable nozzles.
Equipped with a stainless steel auxiliary water tank with stainless steel filtering screen.
An inverter controls the running speed of the mesh belt, the motor power is 2.2KW.
All motors feature a protective hood.
Equipped with a stainless steel height adjusting screw at the bottom of the machine frame to adjust the machine levelness as necessary.
Lift the products to the height of the inlet of the blancher.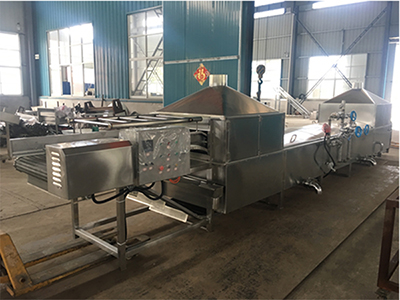 4. Spiral blancher
Cleaned products enter the blancher and move forward in water, propelled by spiral blades. The water temp. is 98±2℃. To meet the blanching time of different kinds of vegetables, we adjust the spiral speed by inverter control, to meet specific blanching requirements.
The spiral blancher is composed of a stainless steel spiral cylinder, tank with cover, driver, vapor pipe with accessories and water temperature detector etc.
Installed power 1.5KW.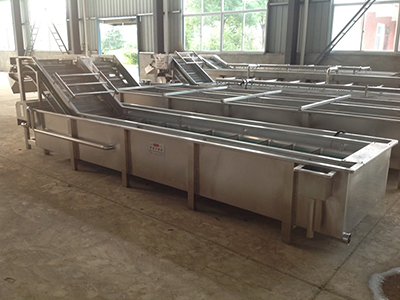 5. Normal water chiller
The normal water chiller cools the blanched vegetables quickly. Meanwhile it blows off impurities from the surface of the products. The products are delivered to the water tank via mesh belt and are cooled in the process.
Converse water flow from the mesh belts operational movement flushes the impurities. Water spay upon the products entrance into the chiller, cools products and saves cooling consumption in the next step.
Install power: 1.5KW.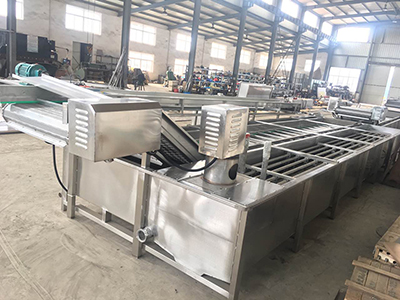 6. Ice water chiller
Completely filling the water tank prior to operation, starts liquid supply and suction valves and starts motor. When water temperature is below +5℃, the machine can be used for chilling. The product temperature will be approx. lower than +12℃.
Drive motor power: 1.5KW.
Water tank frame: 75×45×2mm.
Motor for ice water circulating power 2.2KW.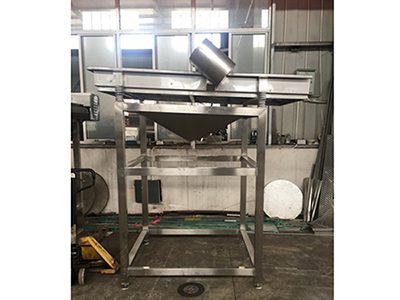 7. Vibrating drainer
The frame is made of 75×45mm stainless steel tube. Stainless steel sheet with holes as drainer.
High frequency vibrating for draining, reducing water that will be taken into the freezer, preventing products from sticking to each other.
Vibrating drainer structure: stainless steel frame, elastic device, vibrating motor, and draining sheet.
Install power 0.5KW.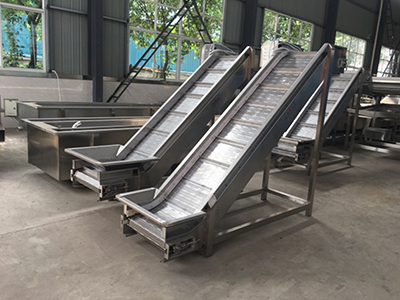 8. Lifting conveyor
Lifting conveyor transports the products to vibrating feeder, and drain the water in the process.
Motor power: 1.5KW.
Stainless steel adjusting screw equipped at the frame bottom, to level the machine.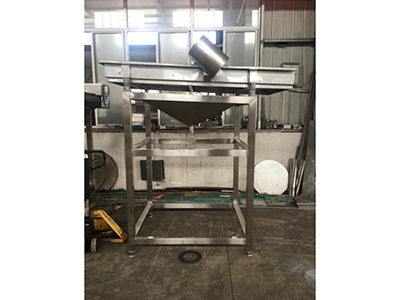 9. Vibrating feeder
To feed the products to fluidized freezer evenly.
Main structure: frame, vibrating motor, feeding device.
Motor: 0.25KW×2
Founded in 1986, Square Technology Group Co. is a dedicated manufacturer engaged in the development, production, and sales of cold chain systems. We provide customers with outstanding refrigeration solutions and quick-freezing food processing systems for those handling agricultural products, seafood, baked goods, and pre-prepared foods. Through more than three decades of development, we have established long-term cooperative relationships with a number of leading food producers, including QL Group, Read Chamber, Morpol, Tyson, CP, Hormel, Cargill, Tingyi, Sunner, Zhouheiya,Juewei, and Anjoy.