Refrigeration Unit and Solution
Square Technology has offered customers a full line of freezing equipment and refrigeration integration solutions for 30 years, giving us extensive experience in refrigeration design, manufacturing and application. According to customer needs, we will provide a suite of refrigeration unit production, such as single- and two-stage screw compressors, variable frequency screw compressors, and CO2 refrigeration units. We will also offer cold chain integration solutions to meet any customer requirements. The main components of our refrigeration unit, as well as the overall system are sourced from well-known names from both at home and abroad. We pride ourselves on offering a full array of high quality services, including system selection, design, manufacturing, installation, inspection, acceptance, maintenance, technical support, and more.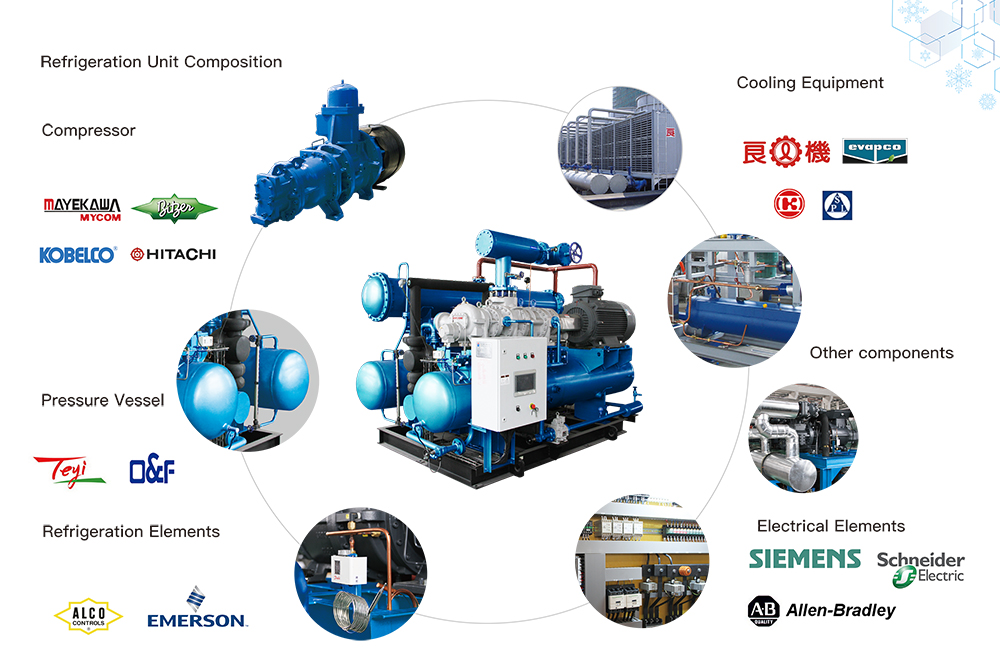 Application
Our refrigeration unit is used in a wide array of fields, including frozen food, low-temperature warehouse logistics and freezer equipped refrigeration systems in quick-frozen processing plants, the matched refrigeration systems for cold storage, and refrigeration systems in marine and chemical industries.
Parameter 1: MAYEKAWA single- and two-stage screw compressor
Unit model
MCF2016LS
Refrigerant
R22
Evaporating temperature℃
-40℃
Condensation temperature
+35℃
Unit size (for reference only)
3350*2335*2500mm (Non-standard products, subject to the specific manufacturing)
Operating Weight
6.5T (Non-standard products, subject to the specific manufacturing)
Refrigerating capacity (KW)
271
Shaft power(KW)
153
Cooling method
Evaporative cooling
Cooling equipment
Wanxiang
Liquid supply method
By expansion valve
Power supply
Power 380V/50HZ/3P; Control Power 220V/50HZ
Special requirements for the unit
1. Unit (including electronic control system), and whole refrigerating system
2. The unit automatically controls the fan operation according to the condensing pressure.
3. The compressor has its own controller, the electric control cabinet is waterproof, and there are both a temperature control and heater inside.
4. The compressor automatically adjusts energy according to the load.
5. Control system adds remote control module.
6. The compressor can flexibly and automatically adjust the number of operating devices and energy based on energy.
7. The unit is equipped with a central control cabinet.
Using MYCOM selection software, it has been determined that the COP of MAYEKAWA single- and two-stage MCF2016LS screw compressors is 1.77, which is suitable for frozen industries below -40 ˚C.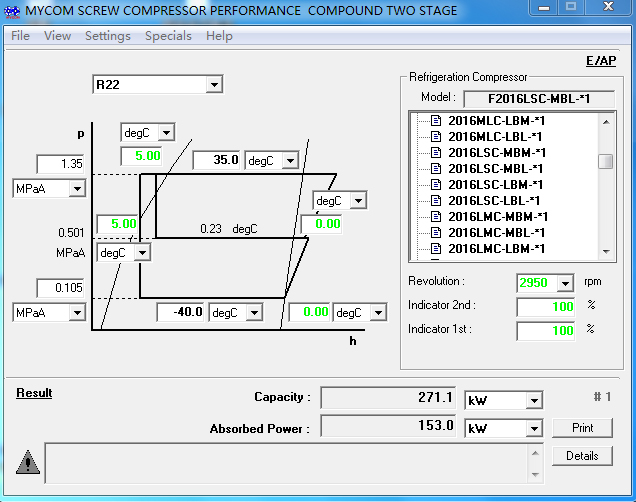 Features
Application of the MYCOM and high-efficiency rotor profile (O type)
The refrigeration unit is equipped with an efficient oil cooler.
The refrigeration unit features a three-stage high-efficiency oil separator and has been awarded a national patent: patent number ZL201410035625.1.