Carton Box Freezer
The carton box freezer is used to freeze products in carton boxes and trays. Frozen foods generally include poultry and pork, as well as seafood products, ice cream, fruits and vegetables. The weight of one-piece goods generally ranges between several kilograms and dozens of kilograms.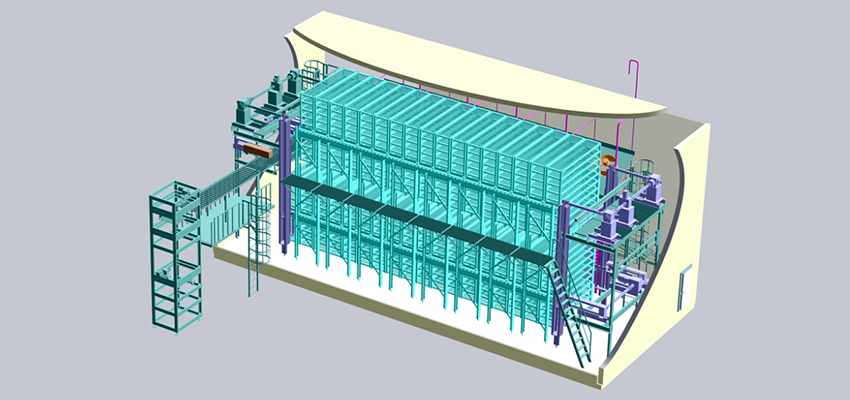 Compared to a traditional quick freezer, the carton box freezer uses a fully automatic operation, and covers only a small area that saves 2/3 more space. Due to the fact that the infeed mode is feeding a little at a time, the inside temperature of the freezer remains constant, with a fast freezing speed, and a high freezing quality. The carton box freezer is applicable for continuous production, as well as use as a cold storage room.
Parameters
| | | |
| --- | --- | --- |
| Item | Parameters | Remarks |
| Type | RSF0135 | |
| Freezing product | Meat | |
| Feeding method | Packed in cartons | |
| Carton size (maximum) | 600x400x190 (mm) | LxWxH |
| Weight/carbon | 25kg | |
| Pallets | 35 pieces,10 layers/each | |
| Pallet size | 3020x650x2875 (mm) | LxWxH |
| Capacity | 2100 cartons,about 52t | 60 cartons/pallet |
| Infeed temperature | +12℃ (center) | |
| Outfeed temperature | -15℃ (center) | |
| Temperature inside | -32~-35℃ | |
| Expected freezing time | ≤36h | |
| Infeed speed (maximum) | 10 cartons/min | |
| Enclosure panel thickness | 200mm | |
| Installed capacity | 138kw | |
| Refrigeration consumption | 265kw | |
| Refrigerant | R22 | |
| Defrosting method | Defrosting by water | 5 sets of evaporator for defrosting in turn |
| Interior structure part | 304 stainless steel, Q345D hot-dip galvanizing | |
| Overall dimension | 18.14x9x8.15 (m) | LxWxH (Enclosure) |
Notes: The above parameters are set based on freezing of 25kg/carton cut of meat. These parameters are subject to change based on different products and processes.
Features
1. The freezer is automatically operated, controlled by PLC. It costs less labor during infeed and outfeed operation.
2. Air curtain devices set at infeed and outfeed, results in less cold loss.
3. Cartons move continuously along running direction in freezing area. Every pallet will pass the whole freezing process in set time with an even freezing speed.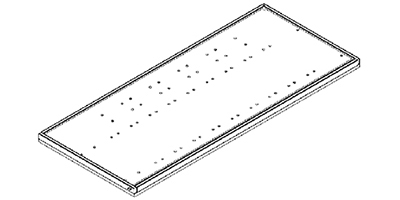 4. The floor base of the freezer is an integral welding sink that is leak resistant.
---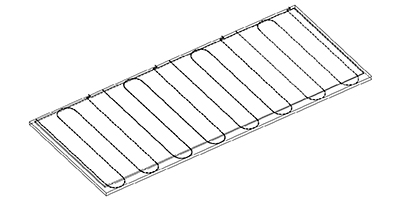 5. We can equip frost protection heating system for concrete, and the electrical heating wire can be changed.
---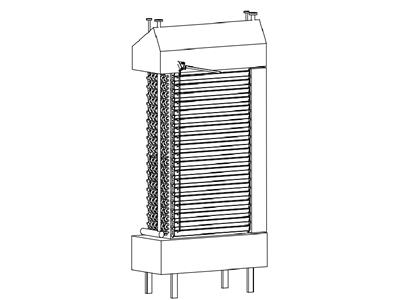 6. The carton box freezer is equipped with a high-efficiency evaporator, and the evaporation efficiency is 30% higher than that of a normal freezer. Different sets of evaporators equipped and defrost in turn, guarantees a longer dwell time non-stop for defrosting.
---
7. There are separate drainage tanks at the bottom of the evaporator, and the draining pipe of drainage tank is equipped with a heater to ensure the defrosted water easily discharges.
8. Unique convection circulating air duct design with better heat exchanging efficiency.
9. The freezer is fully automatic under PLC control, and the infeed and outfeed processes are done completely via conveyor with no need for manual labor. Auto detecting system and alarms are equipped for convenient operation and maintenance.
Custom Range
We can design and manufacture the freezer based on different frozen food conditions and customer requirements.
The production capacity ranges between 1.4t / h ~ 2.8t / h.
The number of carriers ranges between 35 and 44.
Infeed and outfeed conveyors can be chosen according to customer requirements.
The location and direction of infeed and outfeed are chosen according to customer requirements and site restrictions.
Founded in 1986, Square Technology Group Co. is a dedicated manufacturer engaged in the development, production, and sales of cold chain systems. We provide customers with outstanding refrigeration solutions and quick-freezing food processing systems for those handling agricultural products, seafood, baked goods, and pre-prepared foods. Through more than three decades of development, we have established long-term cooperative relationships with a number of leading food producers, including QL Group, Read Chamber, Morpol, Tyson, CP, Hormel, Cargill, Tingyi, Sunner, Zhouheiya,Juewei, and Anjoy.